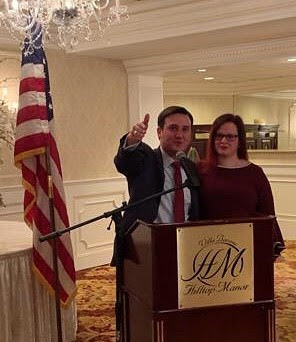 Assemblyman Byrne joined by his wife Briana addresses supporters on election night at the Villa Barone Hilltop Manor in Mahopac.
November 8, 2018 / Mahopac, NY – After a long election night where Republicans in New York State faced many challenges, Assemblyman Byrne secured his re-election by a 14 point margin winning both Westchester and Putnam County portions of the district.
Throughout the election, Assemblyman Byrne campaigned on his record of tax relief, tackling public corruption, protecting our veterans and first responders, and serving as one of the most effective freshmen lawmakers in the state.  Those are just some of the examples voters cited when choosing to elect him to a second term.
"I want to thank the people of Putnam and Northern Westchester for their continued support and for giving me the opportunity to serve in the Assembly for a second term. Serving the people of the area I have called home all my life has been a tremendous honor. We knocked on over 5,000 doors and engaged with voters of all political affiliations to earn their support and get us across the finish line. It takes a team to win an election.  Thank you to my family, campaign team and our tremendous grassroots army of volunteers for their efforts in securing our re-election" said Assemblyman Byrne,
"I'd also like to thank all the other candidates who ran for office this year, those who won and those who came up short, including my opponent. It takes a lot of courage to stick your neck out and run for public office, especially in today's polarizing political climate. By engaging in debate and civil conversation, we learn more about each other and about new ideas that can help our community and our state. I look forward to bringing that attitude and many of those ideas to Albany in the upcoming legislative session."
Assemblyman Byrne's double-digit victory is even more impressive considering his opponent outspent Byrne's campaign by nearly three times. According to the most recent filing from the New York State Board of Elections website, Byrne's opposition raised and spent nearly $180,000 with most of the money raised from outside of the district, much of it directly from New York City donors. Despite New York City's push to flip this district, Byrne's strong victory is evidence that the 94th Assembly District is not for sale, and that money was not enough to overcome Assemblyman Byrne's record of success and strong grassroots support.